borders
(since 2012),
true silver gelatin baryta based paper, 70 cm ×100 cm
In different forest formations I colour the bark of selected trees with lime wash. The coloured surface of each tree relates to my body size. The arrangement of the lime washed trees may be conceived as a line whilst the number of trees is determined by the field of focus seen through the camera.
I whitewash the bark of several trees with blank lime wash, which is mixed with water (as used in fruit-growing for pest control purposes as well as stress equalization of bark throughout a seasonal change of weather conditions). I whiten the trees using a broad paintbrush. In the course shifts in weather conditions the lime wash fades. The lines of trees are continuously documented by using an analogue Hasselblad camera. I then goes on to scale up the monochrome pictures in square-cut format to a size of 70cm x 100cm.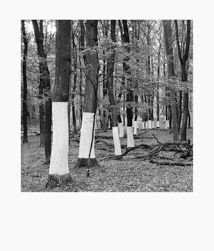 Wannsee, Jagen 289a1, 2013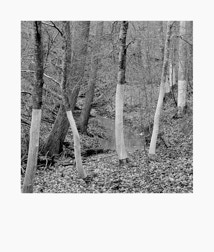 Schönbuch, Abt. 8 Hirschgrund, 2015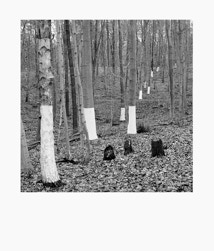 Wannsee, Jagen 289c, 2015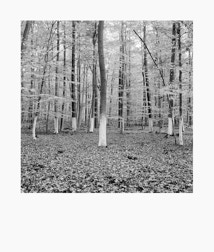 Nikolassee, Jagen 99a, 2015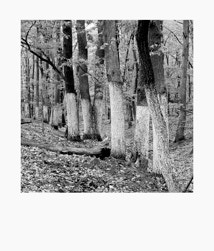 Wannsee, Jagen 297/298, 2013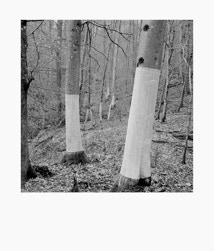 Schönbuch, Abt. 8 Hirschgrund, 2015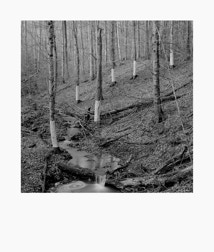 Schönbuch, Abt. 8 Hirschgrund, 2015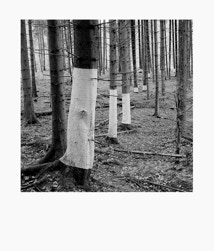 Schönbuch, Abt. 20 Kugelhau, 2015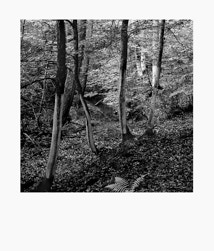 Schönbuch, Abt. 8 Hirschgrund, 2015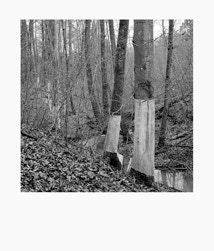 Schönbuch, Abt. 8 Hirschgrund, 2015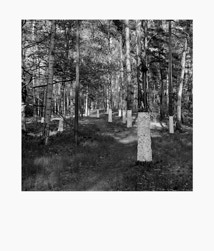 Wannsee, Jagen 289b1, 2015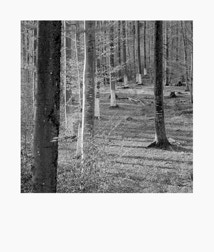 Nikolassee, Abt. 19 Kugelweg, 2015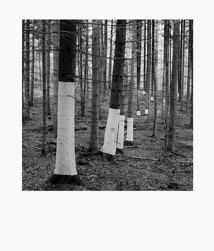 Schönbuch, Abt. 20 Kugelhau, 2015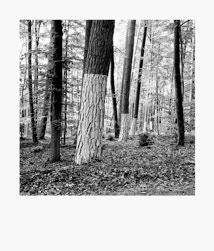 Rammert, Mausriedweg, 2012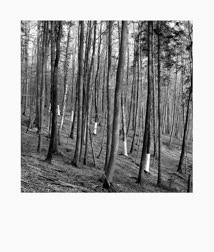 Rammert, Abt. 66 Siebeneich, 2012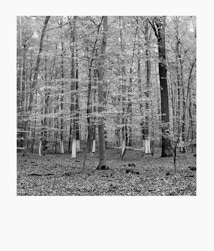 Nikolassee, Jagen 99a, 2015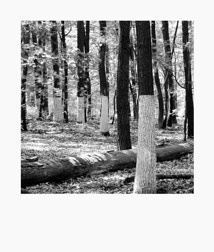 Nikolassee, Jagen 102c, 2014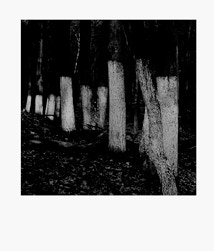 Wannsee, Jagen 297/298, 2013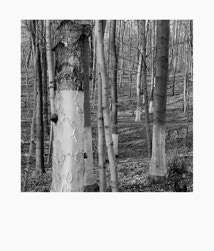 Schönbuch, Abt. 8 Hirschgrund, 2015